About The Fade Shop

Origins
This is the story about the Fade Shop origin.  The Fade Shop is the dream of Ozell Graham that began in 1996. While serving in the US Army's Operation Joint Endeavor, Ozell had a vision of a way to boost morale and help soldiers to cope with being away from their families.  He started providing haircuts in his tent.  It became so popular a fellow soldier even hand craafted a sign to place outside Ozell's tent. The sign read "The Fade Shop."
Legacy
Even then, the legacy of The Fade Shop going beyond the call of duty was established by Ozell giving free haircuts to children at a local orphanage in Taszar, Hungary where he was stationed.
Ozell served eight years in the US Army and then decided to take steps towards fulfilling the dream that came out of this experience in the military – the dream of owning a high quality salon and barbershop.  Ozell later graduated from Arthur's Beauty School in Jacksonville, Arkansas in 2000 and moved to Dallas in 2001.  His dream came into full focus in 2005 when he opened the doors to his first "The Fade Shop" in North Dallas.
Growth
With the overwhelming success of the first barbershop "The Fade Shop's" in Dallas  he was encouraged to open a second location in McKinney, Texas. The Fade Shop established a stellar record of providing exceptional service to the community and active involvement in supporting many community initiatives to help young people.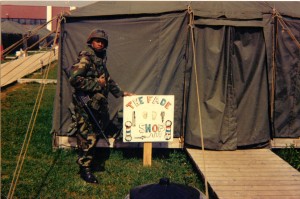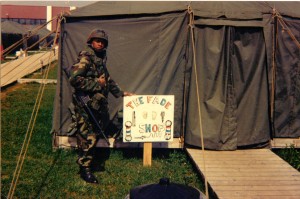 Continuing to serve the broader community, in 2012 the exciting new third The Fade Shop location was opened in downtown Frisco, Texas.  The Fade Shop in Dallas also features a clothing, shoes, and accessories department. Along with the great services and the best fades and haircuts offered in three great locations The Fade Shop features a team of professionally trained barbers that are ready to serve you with the best fades on the planet.
Today, The Fade Shop is the Dallas barbershop of choice for many families in addition to many high profile clients in celebrity, sports, government, and business leaders.  The list of celebrity clientele includes national recording artists Nelly, Usher, Snoop Dogg, and Ludacris and current professional athletes such as Roy Williams, Josh Howard, Chris Paul, Greg Buckner, Brandon Bass, Deron Williams, and Marcus Spears.
Awards and Recognition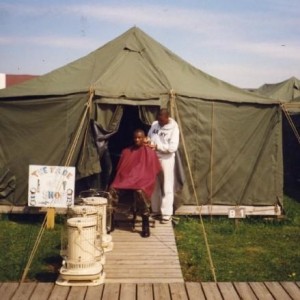 With the promise of continued great family friendly environment and professional services The Fade Shop was fast becoming the Dallas barbershop Icon for good grooming and barber services. This fact was confirmed when The Fade Shop received national attention in 2006 and again in 2011.  Dallas' own The Fade Shop became the two time winner of Steve Harvey's "Hoodie Award" as the best barbershop in America!
For more information or to schedule an appointment at The Fade Shop, please call 972-616-3233.  We encourage you to come by and see why we were voted best barbershop and why we are right for you.